Julien has been a developer for 2 years at Tixeo. He is 100% teleworking like all his colleagues. On the eve of the new school year, he agreed to answer our questions and give us 5 precious tips for successful teleworking and to be productive and feel good while working at home. Here they are!
First, tell us what you like about teleworking?
Julien: I had never teleworked before, but now I would find it hard to do without! The biggest advantage is that I save time because I don't have to waste time on transport. My schedule is more flexible and I can spend more time on my hobbies.
There is also an ecological interest because we reduce the number of journeys, and that is something I am attached to and I think that it should develop.
The comfort at home is also very appreciable. For example, during the confinements, I didn't have to wear a mask all day. I can also easily change my workplace from time to time or for long periods. It also makes it easier for me to consider a move.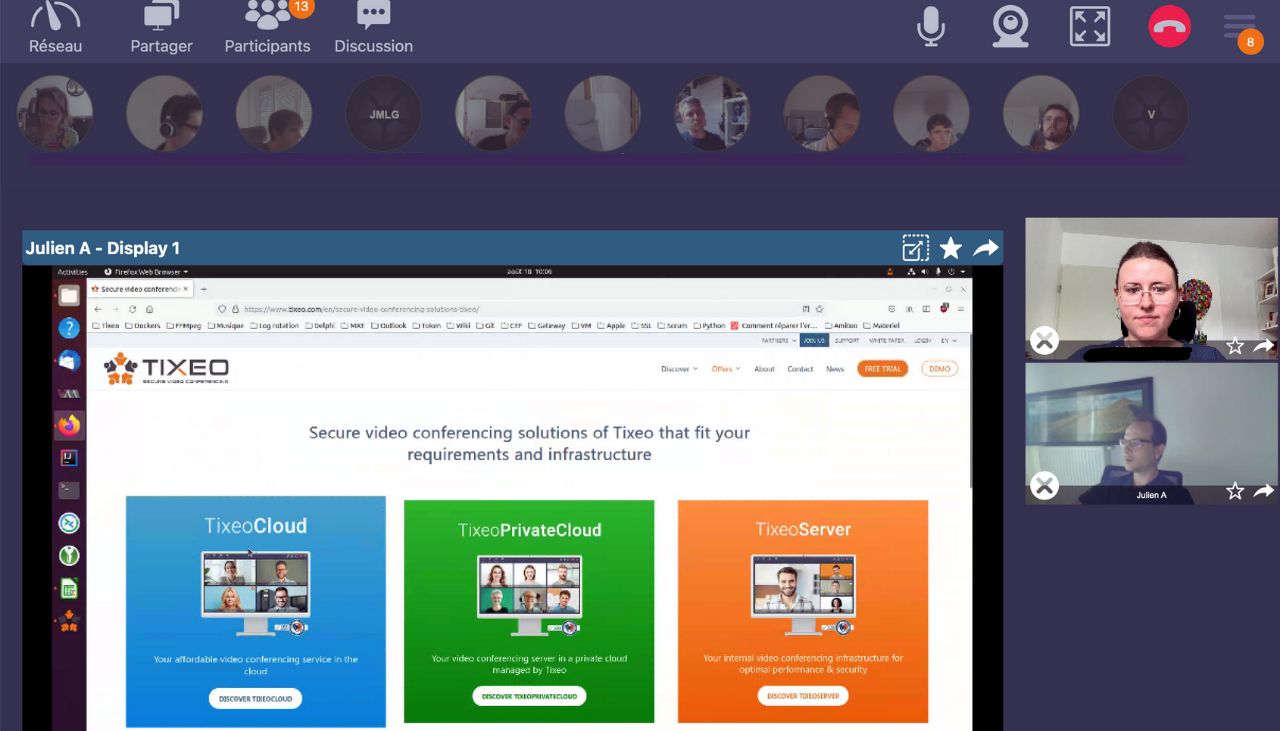 What is a successful telework day for you?

Julien: It's a day when I forget the distance between me and my colleagues. The simplicity and fluidity of our videoconferencing tool means that I work normally with the teams, almost as if we were in person.
To chat with a colleague, I just have to click on his or her bubble: it's fluid, spontaneous and we gain in productivity. In addition, I have a coordinating role in my job, so it's particularly important for me to have a video collaboration solution that facilitates exchanges.
What are the essentials for working at home?

Julien: First of all, of course, you need a good quality Internet connection because a poor connection has a direct impact on the fluidity of remote collaboration. The workspace must also be clearly identified. Ideally, you should have a separate room or mark out a "zone" with screens if you have a small area. Finally, you need to have the right equipment (chair, desk, lights, etc.). For this, you can use sites such as that of the Civil Service, for example.
What are your tips for successful teleworking ?

Julien :
Get moving! You may not realise it, but you are at home all day. It is therefore important to maintain a good level of physical activity. Fortunately, there are no more excuses since we have more free time… And it's still more pleasant to run in a park than to run after the bus or the underground!
Take breaks: we already spend a lot of time on screens and when teleworking, this can become even more so. You should make sure you take regular visual breaks to spare your eyes.
Exchanging, talking, chatting: it may seem trivial, but when teleworking, it is important to maintain the link with colleagues. Managers should be aware of the risk of isolation if these moments are not encouraged. Informing colleagues of progress and difficulties encountered in carrying out work. For example, a daily meeting (from the Agile method) is an essential moment for a teleworking team. This is when they synchronise on a common vision of the day's agenda.
Meet your colleagues! You can organise a moment with colleagues located near you, over a drink or a good meal. At Tixeo, every three months, we all get together for several days at a seminar. This is essential to maintain the team spirit.
Thanks again to Julien for this interview!