While 42% of Europeans are worried about the use of their personal data (according to this study published in 2022), being compliant with the GDPR (General Data Protection Regulation) is an increasingly important issue for companies. In the age of digitalization of work, this compliance is now a real guarantee of reliability.
Tixeo, the European leader in secure video conferencing, is 100% GDPR compliant.
To protect users' personal data
When a video conferencing solution is used within an organisation, personal data are collected and processed.
The following is an example of personal data that may be processed by the solution provider
lists of participants in meetings,
their names and e-mail addresses,
the times and dates of videoconferences,
identifiers or passwords
Even before using the solution, personal data may already have been collected. For example, if a test or contact request has been made: the name, e-mail address or telephone number of the requester has been processed.
It is therefore essential to be aware of all the measures taken by the videoconferencing publisher to protect data.
An essential condition: the European origin of the solution
In Europe, the GDPR firmly regulates the processing of personal data.
In particular, it excludes any possibility of transferring data to a third country without a prior contractual agreement. The GDPR also requires publishers to notify all information relating to the personal data they collect, such as: the means of collection, the purposes, the legal basis and the retention period. European videoconferences are subject to this regulation.
Outside the European Union, video conferencing solutions are not subject to the GDPR.
Most of the major publishers, particularly those present in the United States, comply with foreign regulations, which are very flexible in terms of data protection. The Cloud Act is one of them. This series of extraterritorial laws allows the authorities, under certain conditions, to compel publishers located on American territory to provide data relating to electronic communications stored on American or foreign servers.
Tixeo offers full transparency on personal data processing
As an actor committed to video conferencing security, Tixeo puts GDPR compliance at the heart of its commitments. It is imperative that its customers, operating in sensitive and strategic sectors, benefit from an optimal protection of their users' personal data.
All security measures are implemented, particularly internally, to ensure this protection. These measures include the encryption of the hard disks of staff workstations handling personal data and the verification of the compliance of subcontractors.
But it is not enough to say so!
Tixeo provides its customers and users with an easy-to-understand GDPR guide.
In this guide, you just have to select your profile (Tixeo customer, solution tester, videoconference guest…), to access, in one click, all the information about the processing of your personal data.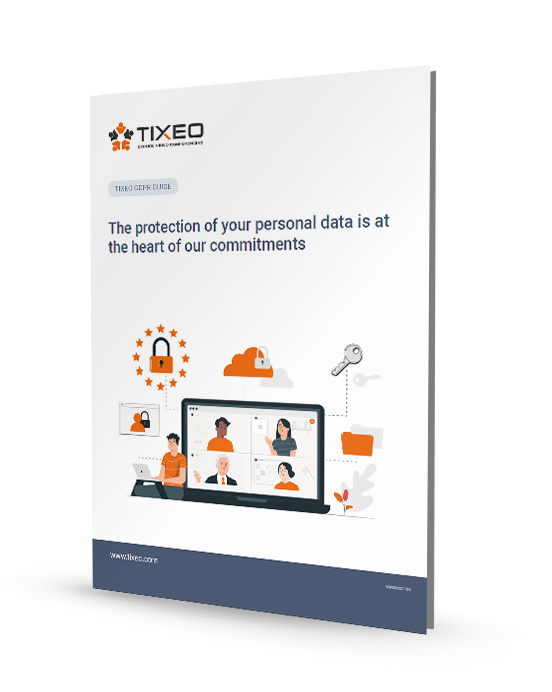 How does Tixeo process your personal data?
Discover your GDPR guide to learn more about how Tixeo uses your personal data