In this interview, Maribel Poyato, Country Manager Iberia / Latam, explains how Tixeo guarantee your privacy in your communications and their success on the European Markets.
By Javier Nieto León  |  Read the article on Startuptips.com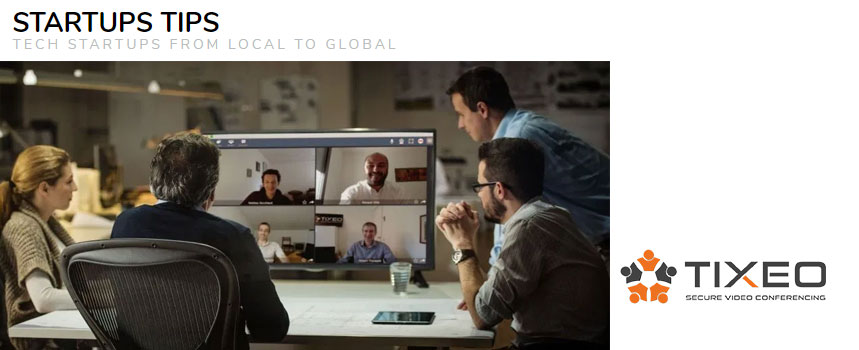 About you
Our mission is to design and provide organizations with secure videoconferencing solutions that guarantee the strict privacy of their communications.
What is your vision?
Make aware of the challenges related to espionage and cybercrime issues, we are committed to offering our clients a unique and highly secure collaboration experience. Tixeo is an innovative answer with a unique encryption architecture for videoconferencing.
No trustworthy offer on the market
After several eavesdropping scandals on the telephone network and Skype, trust in communication tools has been damaged. The governments of some countries require their communications solutions vendors to provide eavesdropping capabilities (backdoors). Thus, this includes over 90% of the solutions on the videoconferencing market.
Companies that want to hedge these risks usually isolate the communication tools on a private network. This approach can be efficient for internal communications but has the huge disadvantage of restricting the value of these solutions. In fact, it completely excludes external users: customers, suppliers, and partners.
What kind of solutions are you focused on?
Thanks to more than 15 years of experience and innovation in videoconferencing, Tixeo empowers its latest version with a new encryption architecture protecting online business meetings against any risk of corporate espionage.
We have developed 100% European video conferencing solutions with a level of performance, collaboration, and security never achieved before (certified and qualified by ANSSI).
How do you help to its customers and partners?
The Tixeo solution allows meeting in HD/4K video conferencing from any equipment (Windows, macOS, iOS, Android, Linux) while offering advanced collaboration features. Safety is taken into account at all stages of the conception (Secure by design).
It is available as a Cloud service, an on-premise server or outsourced (TixeoCloud, TixeoServer or TixeoPrivateCloud). The H.323 / SIP TixeoGateway service enriches these offers. For those wishing to equip new rooms, TixeoRoom is the solution. It will integrate naturally into the secured infrastructure while reducing installation and administration costs.
Customers Worldwide from SMB to large corporations.
Customers Worldwide from SMB to large corporation trust Tixeo: Nexter, Eurenco, DGA (the French Defense Procurement Agency), DGAC (French Civil Aviation Authority), CNRS (French national center for scientific research), Ariane Group, Orange, Credit Agricole, etc.
What makes Tixeo different?
We offer the most secure video conferencing technology on the market. Tixeo offers true end-to-end encryption for multipoint videoconferencing while maintaining high adaptability to network fluctuations.
Communication privacy always guaranteed.
In addition to the client-to-server encryption (link encryption), all communications are now encrypted from end to end (from client to client). This end-to-end encryption allows an unparalleled level of security for multipoint communications. We guaranteed the communication privacy, even in the case of an attack targeting the Tixeo server.
This innovation has been made possible by the unique SVC on Demand (Scalable Video Coding on Demand) technology created by Tixeo's R&D department. Currently constrained by their technological architecture, no other videoconferencing vendor can offer such a level of security
Javier Nieto León
Read the article on Startuptips.com