Tixeo, the European leader in secure videoconferencing, announces the launch of its client's new version (14.6.3): among the new features, the European editor offers an smart multiscreen display function allowing its users to extend the interface of the solution in high resolution on an unlimited number of monitors. With this innovation, organizations can now integrate telepresence into their online meetings.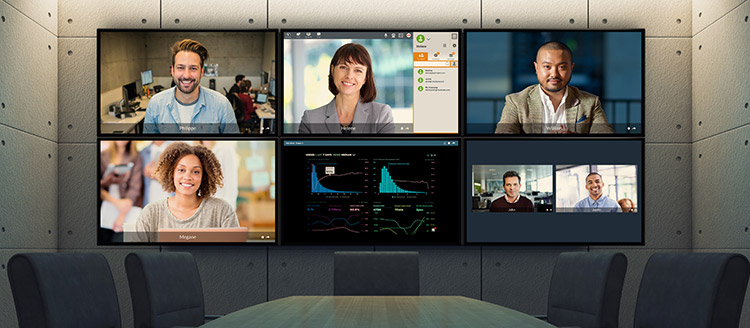 Immersive HD telepresence for everyone
This new feature allows the solution to be easily adapted to meeting rooms and more broadly to situations requiring authentic face-to-face communication regardless of the number of screens connected to the system. With a simple click, the organizer can choose the number of monitors on which he wants to extend the Tixeo client. The participants' videos are distributed and enlarged on the selected screens, thus reinforcing the feeling of reality and proximity.
To offer an even stronger immersive experience, Tixeo relies on its exclusive SVC on Demand technology that will maximize the quality of each video regardless of the number. Another advantage: the system automatically dedicates a screen for any desktop or application sharing, which enhances them, thus optimizing the collaborative aspect of the meeting. This functionality is compatible with the VideoTouch Compact, the Tixeo video conferencing kit for meeting rooms.

Sébastien JEANJEAN, Co-founder of Tixeo adds: "With this update, Tixeo clearly stands out from other solutions available on the market. Unlike most of our competitors, this new multi-screen feature provides easy access to telepresence at no additional cost to our customers. In addition, the Tixeo solution imposes no limit on the number of displays to be connected and provides HD quality for each video displayed, subject to sufficient bandwidth.".
Safety as well
In addition, Tixeo provides a range of innovative security mechanisms, such as end-to-end encryption in multipoint meetings or client-server link encryption, enabling the implementation of the most secure telepresence meetings on the market. Tixeo is currently the only certified videoconferencing solution (CSPN-1-) and qualified by ANSSI-2-, and its offer was awarded the France Cybersecurity label at the beginning of the year.
Tixeo will soon include in its Tixeo Room range a complete kit particularly adapted to this functionality for meeting rooms equipped with several screens.
-1- CSPN: Certification de Sécurité de Premier Niveau =  First Level Security Certification
-2- Agence Nationale de la Sécurité des Systèmes d'Information = French National Cybersecurity Agency