Tixeo WorkSpace3D new release
Version 2.3 of meeting3D and WorkSpace3D has been released :
Both products benefit of major improvements on audio conferencing quality. Strategies like sharp analysis of your network and improvement of the sound environment have been developed in order to give you the feeling of really being in presence of your interlocutors when meeting in WorkSpace3D and meeting3D.
Lips movements and word said by your interlocutors are synchronized even better.
The quality of service is now linked to your CPU usage, allowing to have reliable commmunication conditions even on an old PC.
WorkSpace3D is enriched with an application sharing feature. It allows to share applications or documents confidentially. You can, for instance, share a spreadsheet while reading your private emails. For best user-friendliness, the shared application is completely integrated in WorkSpace3D's interface. Positioning of videos and shared documents is thus optimized. Note: This feature is only available in WorkSpace3D.
Keep the quality and original colors of your documents and applications during a desktop or application sharing. This is very appreciated for work situations on graphics for which the quality is an important matter, like: CG teamwork, codiagnostic of radiography for doctors or marketing meetings on new communication graphics…
Meeting management system has been simplified:

Manually joining a meeting is easier,
Timezone selection for a participant has been redesigned and is more user-friendly,
Any participant can easily change its preferences (password, timezone, name…).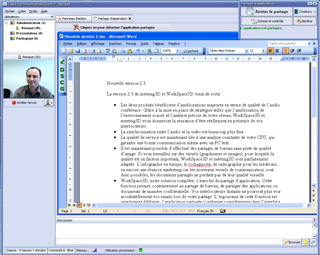 Knowing Tixeo
Our mission is to design and provide organizations with secure videoconferencing solutions that guarantee the strict privacy of their communications.
Working in close cooperation with our customers, we have developed 100% European videoconferencing solutions with a level of performance, collaboration and security never achieved before (certified and qualified by ANSSI).
Every day, all over the world, we support thousands of users, SMEs and large groups. Aware of the challenges related to espionage and cybercrime issues, we are committed to offering our clients a unique and highly secure collaboration experience.