Request Tixeo's secure video conferencing Demo
Discover the tremendous potential of Tixeo's secure video conferencing solution
You are only two minutes away from your personalized demonstration of your Tixeo video conferencing demo.
Here are the steps to follow:

Contact us at +33 (0) 467 750 431 or enter your contact details to schedule a meeting.

A Tixeo expert will contact you as soon as possible. A demonstration of our secure video conferencing solution takes less than 20 minutes.

After clicking on this confirmation link, you can choose your username and password. You can start holding meetings with our secure video conferencing solution!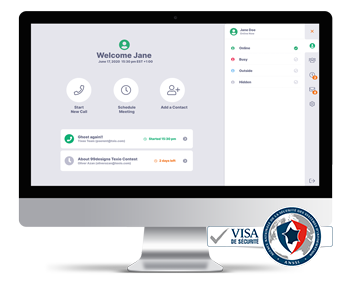 *The information collected by Tixeo, the controller, from this form is processed electronically to allow Tixeo's marketing and sales department to (1) perform a demo of the software solutions, (2) establish statistics and (3) perform sales prospecting operations with professional prospects. In case of a specific technical request, this information may be transmitted to a specific subcontractor or integrator certified by Tixeo in order to allow the realization of an adapted remote or on site demonstration. In accordance with the GDRP, you can exercise your right to access, rectify or delete your personal data by contacting: rgpd@tixeo.com. You have the right to object to the processing of your data concerning any commercial prospecting operation at any time by sending an email to rgpd@tixeo.com. For more information on the use of your personal data, you can consult our privacy policy.
Since its creation 15 years ago, Tixeo has been working with large companies and institutions that entrust us with the management of their secure videoconferences. Our goal is to support and help everyday our customers in their projects.
Tixeo provides a secure video conferencing technology that is used by many organisations.
Find out what we can do for you.