Tixeo wishes you a happy Tixeo New year !
Tixeo wishes you a very happy new year 2011. First event for Tixeo this year was moving it's headquarter offices into a larger and more appropriate place, in the same city of south of France, Montpellier.
On another side, WorkSpace3D offers have been simplified, as they now all have an unlimited amount of hosts. WorkSpace3D Professional Edition, becoming our main
SaaS
offer, has now a possible amount of seats extended to 10, 15 or 20.
WorkSpace3D Enterprise Edition, our on-premise offer is enriched with new options. Still available as a license, appliance and virtual appliance, WorkSpace3D remains one of the leading web and video conferencing on-premise server.
Our hardware offers have also been developed. Our Standard and Executive meeting room kits are now composed of a motorized HD 1080p video camera and provided with a preconfigured Core i7 desktop. A new set of furniture for you video conferencing equipment has been added. Single or double screened, they not only offer a modern design, but also a great ease of use for video conferencing in your meeting room.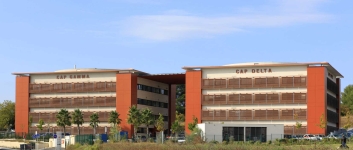 Knowing Tixeo
Our mission is to design and provide organizations with secure videoconferencing solutions that guarantee the strict privacy of their communications.
Working in close cooperation with our customers, we have developed 100% European videoconferencing solutions with a level of performance, collaboration and security never achieved before (certified and qualified by ANSSI).
Every day, all over the world, we support thousands of users, SMEs and large groups. Aware of the challenges related to espionage and cybercrime issues, we are committed to offering our clients a unique and highly secure collaboration experience.