Unified communications Tixeo : Messaging in WorkSpace3D new version
Only for 4 months after the major version 4.0 bringing both presence and adhoc meetings, Tixeo goes deeper into collaboration by adding a new messaging feature, halfway between instant messaging and email.
Now you can send messages to all your private contacts by creating chats. Each chat can be turned into a video conference with one click on "invite to an instant meeting". Unified communications are better than before, and easier.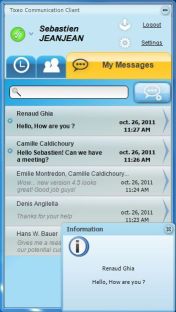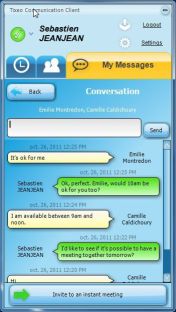 New messages are notified by a pop-up showing the sender name, and the beginning of his message. You can access your new messages and chats by clicking on "My messages" on the Tixeo plugin. Each new message will be indicated in bold.
WorkSpace3D crosses a new step in collaboration and unified communications, making it the best solution for daily collaboration within companies.
About secure video conferencing
Tixeo provides the most secure video conferencing technology on the market
For more than 15 years, Tixeo's R&D teams have been designing and implementing, in collaboration with some leading industry companies, innovative security mechanisms in order to ensure a level of confidentiality never reached yet for a multipoint communication.
The French technology Tixeo has obtained a CSPN certification and a qualification from ANSSI (the French National Agency for the Security of Information Systems).
Knowing Tixeo
Our mission is to design and provide organizations with secure videoconferencing solutions that guarantee the strict privacy of their communications.
Working in close cooperation with our customers, we have developed 100% European videoconferencing solutions with a level of performance, collaboration and security never achieved before (certified and qualified by ANSSI).
Every day, all over the world, we support thousands of users, SMEs and large groups. Aware of the challenges related to espionage and cybercrime issues, we are committed to offering our clients a unique and highly secure collaboration experience.