Tixeo will participate to the EURONAVAL trade show that will take place virtually from October 19th to October 25th on the EURONAVAL-ONLINE platform available through the Euronaval website.
Tixeo will be part of the new CYBER NAVAL HUB by FIC area, which will present, online, the latest and most efficient solutions in the field of protection of naval defence digital systems.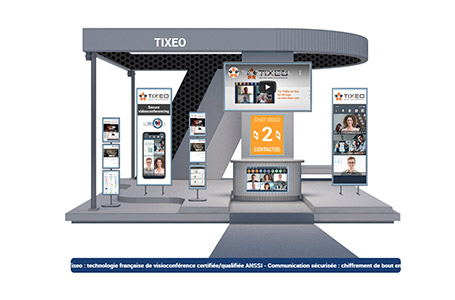 The Tixeo booth will welcome visitors, who will be invited to communicate with the team by videoconference in just one click. These meetings will be an opportunity to exchange on the importance of safety and privacy in videoconferencing communications.
As a reminder, Tixeo is the only videoconferencing solution to be certified (CSPN) and qualified by ANSSI (French National Cybersecurity Agency)
About Euronaval
Euronaval 2020 is consequently rising the maritime cybersecurity aspects in a new space dedicated to digital security and trust – building – for maritime stakeholders as a sectorial extension of the International Cybersecurity Forum (FIC) co-organised by CEIS and the French Gendarmerie.
This dedicated area aims to develop trust building and best practice exchanges, presenting innovative and effective solutions supporting the digitalisation of the Maritime World.
Industry leaders and public administrations in the cybersecurity domain are thus invited to present their solutions at the EURONAVAL Cyber Naval Hub pavilion 2020 and to provide best practices and imagine future perspectives during business dedicated events and meetings that will be organised throughout the exhibition.