Tixeo, the European leader in secure videoconferencing, announces the launch of its SMG (Smart Meeting Grid) technology and offers all its customers the possibility to install its videoconferencing solution via the deployment of a multipoint network. The innovation is based on the intelligence of the system, which automatically connects users to the nearest communication servers.

The SMG technology allows the customer to set up its communication servers network in the regions of its choice. This multipoint infrastructure now includes intelligent management that automatically selects the active communication servers closest to users, significantly reducing latency and providing employees with an optimal user experience.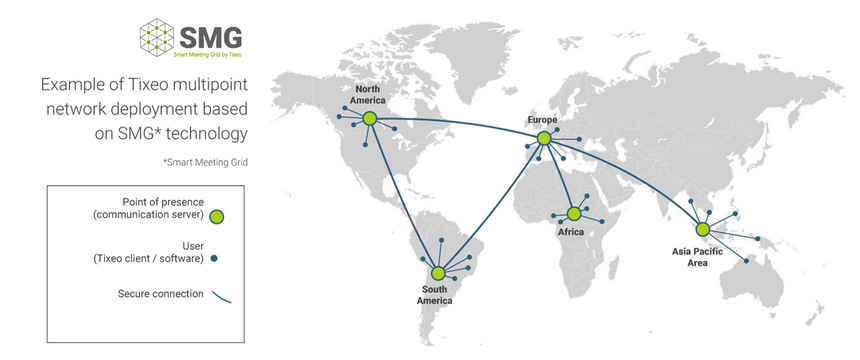 Automatic selection of points of presence
This innovation perfectly meets the needs expressed by international groups who simply want to deploy Tixeo videoconferencing on a global scale and benefit from increased performance in communication flows (audio, video and data).
Renaud Ghia, CEO of Tixeo explains: "We were already proposing this type of multipoint architecture to bring users closer to communication servers. Our priority was to reduce delays (latency) that can be too long with remote sites. We now offer an infrastructure that is still easy to deploy but now has real intelligence that automatically selects the point of presence nearest to the user. This simplifies the procedure: the administrator no longer has to manually select the appropriate communication server. A simplicity that can also be found in the communication flow: each point of presence communicates only in HTTPS."
SMG technology has another advantage: it integrates a high level of service resilience. If one server stops working, another will automatically take over, ensuring continuity of service. SMG technology is designed to adapt to customers' infrastructures, thus maintaining full control over the security of their communications.
Confidentiality and security under control in any situation:  the example of Orange
The adaptability and the high level of security provided by Tixeo led Orange Group to add Tixeo secure videoconferencing to its collaboration tools.

Orange employees sometimes exchange confidential information during online meetings.
A communication server has therefore been placed in the company's internal network to fully control the security of exchanges between employees. Videoconferences remain isolated from the rest of the company and from outside.
Employees may also be required to communicate with users outside the company. To secure these exchanges, a communication server, placed on an external Private Cloud, will automatically be selected to relay the communication flows between the internal and external servers. This organization also allows employees to use their smartphone or tablet for videoconferencing from outside via the Internet.
It should be remembered that the Tixeo secure videoconferencing solution integrates end-to-end encryption during multipoint meetings, including as communication flows (audio, video, data) pass through the SMG's points of presence.
With SMG technology, Tixeo confirms its expertise in network and security issues applied to videoconferencing. The French editor currently offers the only certified videoconferencing solution (CSPN[1]) qualified by ANSSI[2]. Its offer was awarded the France Cybersecurity label in January 2019
[1] CSPN: Certification de Sécurité de Premier Niveau =  First Level Security Certification
[2] Agence Nationale de la Sécurité des Systèmes d'Information = French National Cybersecurity Agency