From October 25th to 27th, 2022, Tixeo will be present at it-sa 2022, the reference in the field of IT security in Germany. The most important European experts in cybersecurity will be gathered during this event.
Mobilized for IT security
In the context of the digital transformation of companies, the demands on cybersecurity are becoming ever more important.
This is why, every year, It-sa brings together all the IT security solutions and products that meet this need for innovation and performance. With a common goal: to protect organisations from cyber risks.
Professionals in cloud and data security and infrastructure security meet at it-sa to discuss future challenges and answer visitors' questions.
Tixeo, a secure and European video conferencing solution
Tixeo is the European leader in secure video conferencing, guaranteeing companies operating in sensitive sectors a perfect confidentiality of their communications. Indeed, thanks to its end-to-end encryption technology, audio, video and data communication flows are protected from any eavesdropping risk. The French National Agency for Information Systems Security (ANSSI) has awarded Tixeo a CSPN certification. The German Federal Office for Information Security (BSI) has recognized this certification.
100% GPRD compliant
In Europe, data security requires companies and solutions to comply with the General Data Protection Regulation (GDPR). Cybersecurity solutions are no exception.
Tixeo puts GPRD compliance at the heart of its commitments. Its goal is to offer more protection and sovereignty to organizations that trust it. Tixeo's software design and development are exclusively made in France and its proprietary technology is not subject to foreign legislation. Tixeo's servers are hosted in Europe, on French territory, and only on sovereign and European clouds. Tixeo acts to prevent any risk of dependency on extra-European powers.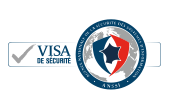 Meet Tixeo at it-sa 2022
Tixeo welcomes you on its booth (Hall 7 – Stand number 7-601) to present its secure video conferencing solution and demonstrate its features. It will also be possible to exchange live with Tixeo's teams remotely.
Finally, thousands of visitors from nearly twenty countries are expected to attend it-sa 2022. On the programme: hundreds of exhibitors, forums and conferences on cybersecurity topics.