Tixeo will be present at ISE Barcelona, from January 31st to February 3rd 2023, to present its secure video conferencing solution.
ISE 2023: an event dedicated to innovation
The ISE exhibition brings together the main players in the global audiovisual and systems integration industry.
In 2023, the show will host more than 900 exhibitors at the Fira Barcelona Gran Via, a unique venue covering more than 3,600 m2. Moreover, the event will highlight innovative products and solutions, particularly in the areas of communication and collaboration.
Security at the heart of Tixeo video conferencing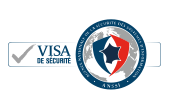 Present in Europe for many years, especially in Spain and Germany, Tixeo offers the only secure video conferencing solution certified and qualified by the French National Agency for Information Systems (ANSSI). Besides, its CSPN certification is also recognized by the Federal Office for Security in Information Technology (BSI or Bundesamt für Sicherheit in der Informationstechnik) as equivalent to the BSZ certificate (Beschleunigte Sicherheitszertifizierung).
As cybersecurity risks are becoming more and more important, European companies of all sizes need to ensure their online communications are protected.
Tixeo videoconferencing solutions are Secure by design and integrate security at the core of their design. No intrusion or eavesdropping on video conferences is possible thanks to its end-to-end encryption technology. All audio, video and data communication flows are encrypted, regardless of the number of participants in the videoconference. This set of innovative mechanisms ensures a maximum level of security.
A 100% European and GDPR compliant solution
Tixeo is particularly attentive to the protection of its users' personal data: a strategic issue for most companies. Its data is hosted in France, in full compliance with the GDPR. The design and development of its software are also made in France and its technology is not subject to foreign legislations.
Meet Tixeo at ISE Barcelona 2023