WorkSpace 3D solution: HD web-conferencing anywhere, anytime
Most of multipoint video conferencing solutions requires both high up-front hardware investments, and security network policy accommodations, without delivering a great collaborative experience.
Where other solutions reach these limits, WorkSpace 3D solution succeeds in providing both affordable and easy HD video conferencing. Indeed, deployment is effortless, no matter how many users are concerned, as WorkSpace3D is firewall friendly and works seamlessly with any proxy.
No need to invest in dedicated hardware solutions. Companies can use regular desktops (or laptops), HD webcams and microphones from the office, from a boardroom or even from home.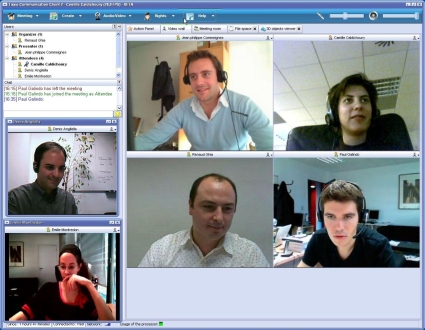 WorkSpace3D, a high-performance solution
Tixeo focused its work on improving WorkSpace3D's core technologies. The new architecture takes advantage of multi-core processors, making WorkSpace3D ready for tomorrow's expectations. Highly optimized and parallelized, WorkSpace3D leverages on CPU resources to deliver the best communication experience. This is one of the primary reasons why WorkSpace3D is an enterprise-grade web-conferencing solution.
A greater end-user experience
As ease of use is one of Tixeo's top priority, WorkSpace3D 3.0 enhances user experience with an easier and smarter GUI. This new release makes it effortless to manage layouts and audio & video settings. For instance, once you are done working on a document, you can easily switch to a video layout perfectly fitted for videoconferencing, the video wall. Dual screens in your boardroom? Move videos within a click on your secondary screen, to extend your workspace.