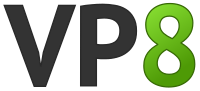 Workspace3D & Google VP8 codec : it works
Almost two years ago, Tixeo was the first videoconferencing software company to integrate Google's VP8 open source codec, the only free alternative to H264. Since then, many industry leaders have adopted it, such as Mozilla, ARM and AMD, and VP8 is on the line for being the video standard over Internet.
The WebM community, leading VP8 developments, has worked hard on increasing its performance on both encoder and decoder. The last VP8 version, codenamed "Duclair" brings huge performance improvements, up to 50% faster than version 1.0. As videoconferencing is a high-demanding application for CPU's, Tixeo worked on integrating this major update to give its customers the best communication experience.
Indeed, Tixeo always keeps listening its customers, and not all of them have the latest CPU's on their computers, making it difficult for some of them to enjoy Full HD multi-party video conferences. By reducing a lot CPU usage, multi-party video conferences over WorkSpace3D are now smoother than ever, even on the oldest computers. Video quality has been also improved.
Thanks to this update, WorkSpace3D runs now faster, using less CPU, and delivers a better video quality.
Workspace3D 4.7 : knowing Tixeo
Our mission is to design and provide organizations with secure videoconferencing solutions that guarantee the strict privacy of their communications.
Working in close cooperation with our customers, we have developed 100% European videoconferencing solutions with a level of performance, collaboration and security never achieved before (certified and qualified by ANSSI).
Every day, all over the world, we support thousands of users, SMEs and large groups. Aware of the challenges related to espionage and cybercrime issues, we are committed to offering our clients a unique and highly secure collaboration experience.