Tixeo release 17.1 is available. Multi-device users of Tixeo secure video conferencing benefit from greater flexibility. Find out what's new in this major version.
Backward compatibility: simplified update management
With backward compatibility, Tixeo software automatically connects to Tixeo servers of different versions. In other words, a user of the latest version can interact normally with a user of an earlier version.
The backward compatibility system embedded in release 17.1 of Tixeo optimises the management of software version updates. These updates are now completely transparent to the user. Versions are stored in the application's cache and launched automatically when needed. You don't have to do a thing.
Backward compatibility applies to :
On computers: all versions prior to version 17 up to 16.6.
On mobile: the version prior to the current version.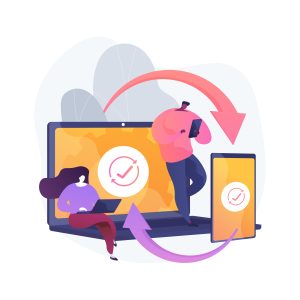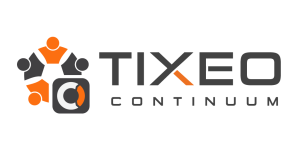 If you're using Tixeo on your mobile, you'll need to download the TixeoContinuum application (available on GooglePlay and AppStore) to benefit from backwards compatibility.
Select your contacts more quickly
When creating a meeting or discussion group, you can now search for contacts in a directory using the last name, first name or e-mail address fields. This new feature in release 17.1 saves time when adding participants.
Need a quick chat? Choose the audio call
From the Tixeo home interface, you can now make an audio call directly. This new feature makes it quicker and easier to launch an audio conference call.
Switch from videoconferencing to audio conferencing at the click of a button
During a meeting, you can also switch from video conferencing mode to audio conferencing mode. To do this, go to the "Info" section of the in-meeting menu. There you'll find the Audio-only mode. By selecting it, you deactivate your video stream and that of all the participants in the meeting. This reduces bandwidth usage and makes up for the inconvenience of a poor Internet connection. This way, you can continue your discussions in the best possible way, especially on the move, for example.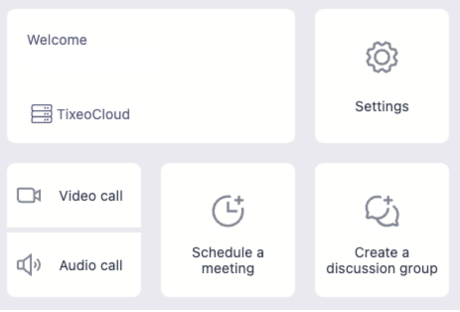 Change handsets during a meeting
Are you already connected to a meeting on one device (computer or mobile) and want to join it on another? With the release 17.1 of Tixeo, you can continue to connect to the meeting without being disconnected. A notification will appear asking you to confirm the connection request on the new device. Once confirmed, you will be automatically disconnected from the previous device. This continuity of connection to the meeting is an efficiency booster for multi-device users.
ANSSI security visa
Tixeo is currently the only videoconferencing technology to be certified AND qualified by the French National Agency for Information Systems Security (ANSSI).