Microsoft Outlook with Tixeo
The main new features in WorkSpace3D 5.8 are:
Organize online meetings from Microsoft Outlook
With this new release, you can now organize online meetings directly from Microsoft Outlook.
The Outlook add-in is automatically installed with the Tixeo client software, without you having to do anything!
You can now:
Customize design and content of all sent emails
Change default meeting duration (1h30)
Redirect your users to custom "Help" and "Support" Web pages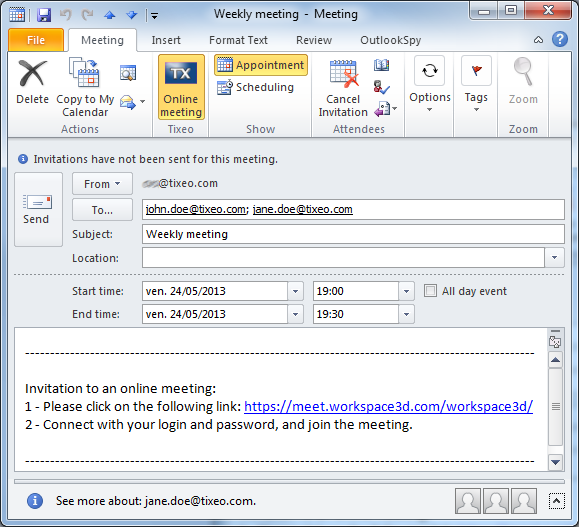 Know Tixeo
Our mission is to design and provide organizations with secure videoconferencing solutions that guarantee the strict privacy of their communications.
Working in close cooperation with our customers, we have developed 100% European videoconferencing solutions with a level of performance, collaboration and security never achieved before (certified and qualified by ANSSI).
Every day, all over the world, we support thousands of users, SMEs and large groups. Aware of the challenges related to espionage and cybercrime issues, we are committed to offering our clients a unique and highly secure collaboration experience.
Leverage the potential of NextGen Video Collaboration
A wide range of features for simple, yet confidential collaboration
Take advantage of our NextGen collaboration technology.
Show any document or application during your secure meetings, transfer files, save your meetings: it's as easy as a simple mouse click !