Tixeo introduces a new desktop sharing technology in the latest version of its video conferencing and collaboration tool WorkSpace3D, result of several months of internal R&D. The editor says: "The speed and visual quality of sharing have no equivalence among the many tools available today."
Tixeo office sharing: smooth and responsive in any situation
Anyone with online collaboration needs has already used a desktop sharing tool (VNC, Remote Desktop, TeamViewer, etc.). The main problem encountered when using these tools is often a lack of responsiveness when documents are rich, include animations or videos. This problem is magnified when the Internet connection is a bit too slow.
Tixeo greatly improves the user experience by providing a smooth and high-quality picture never seen before even on mobile 3G connections.
But Tixeo's solution is a lot more than just a simple desktop sharing tool.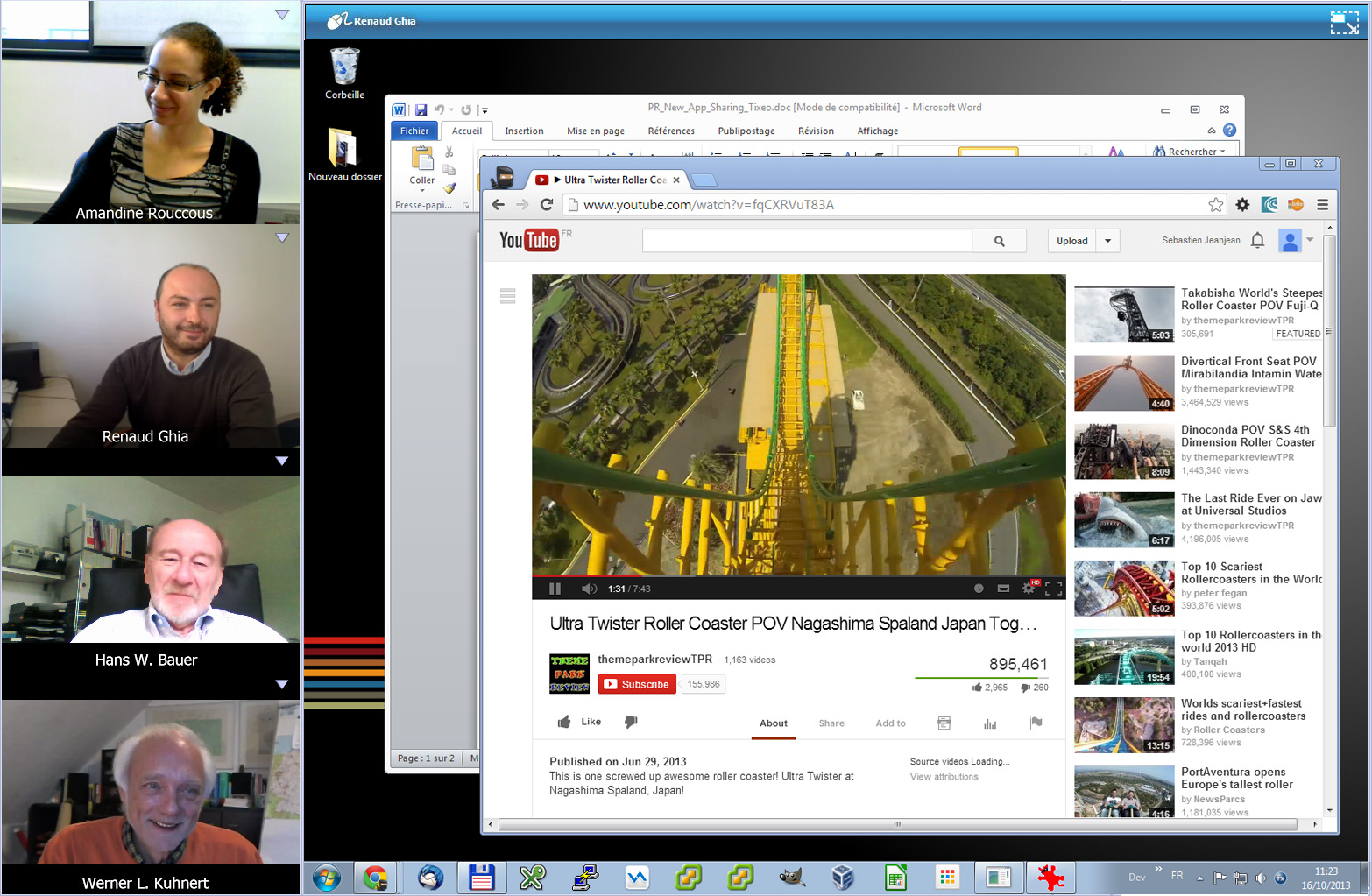 Tixeo office sharing: smart integration with video conferencing
Speaking of Tixeo's office sharing: sharing an application or a desktop is directly done during HD multipoint video conferencing. While communicating in audio and video, participants can share or take control of multiple documents (Excel, Chrome, AutoCAD…). This is made possible by an intelligent network management (proactive QoS) that improves the reliability of communications during a videoconference.
The shared information is also visible from your mobile or tablet, a simple web page or H.323 / SIP video conferencing equipment (Polycom, LifeSize…).
Always highly secured
Tixeo's solution neither requires opening network ports (HTTPS Tunneling), nor changing the security policy of the company. Confidentiality of shared information is secured by encryption.
The user can choose to share its entire screen or a single window, making all other information confidential (messaging…).
When sharing its desktop, the owner keeps control of his computer, even when allowing another participant to take control remotely.
This sharing technology integrated Tixeo's video conferencing is one of the most complete, secure and efficient existing today.