Version 17 of Tixeo secure video conferencing is now available. It includes many new features to offer more speed and ease of use to our users.
Here is everything you need to know about this new major version of the software.
Renaud Ghia, President de Tixeo, presents the V.17 👉

More performance on degraded networks with the QUIC layer
Being able to organise or participate in a videoconference meeting in any location, from any network, is a wish of many teleworkers or nomadic workers. To do so, the video conferencing software used must be very adaptable to network variations.
Tixeo has been working on this and has integrated the QUIC layer to its secure video conferencing solution.
Developed in collaboration with researcher François Michel from the University of Louvain, this technological innovation allows users to ensure continuity of their communications even when their network is severely degraded. Thus, if they experience difficult network conditions, they will not be affected by high latency and will be able to benefit from optimised audio and video quality.
Increased uses
In addition to standard office use, Tixeo customers will benefit from this new technology for many other uses: for example, for theatres of operations (military, civil security, etc.) or remote assistance on complex equipment.
A first in the field of video conferencing
The QUIC layer research work applied to secure video conferencing technology allows Tixeo to become a pioneer in the use of this state-of-the-art protocol for video and audio communications.
Easier access to a secure online meeting
Another evolution of the new version of Tixeo is the strengthening of its accessibility. The challenge was twofold: it was necessary to facilitate access to videoconferencing while still guaranteeing maximum security for exchanges and users.
With a new feature: the waiting room
This challenge has been met with the possibility to share an invitation link to join a videoconference, on a web browser or on the Tixeo software, without compromising the security of the online meeting.
Indeed, when a person clicks on a link to connect to a Tixeo videoconference they have received, they access a waiting room. At the same time, the organizer receives a notification that a guest wants to join the videoconference: he can then accept or not his participation. This limits the risk that a malicious person will automatically join the videoconference by clicking on the link.
Maximum communication security always guaranteed
Tixeo is the only French secure video conferencing solution certified and qualified by the ANSSI. Thanks to its end-to-end encryption, all audio, video and data streams are protected from spying.
Moreover, Tixeo is 100% compliant with the RGPD and is not subject to extraterritorial laws (such as the Cloud Act in the US) that allow communications to be tapped under certain conditions.
Recording playback
Among the other new features of Tixeo version 17: it is now possible to play a recording of a Tixeo meeting directly from the software.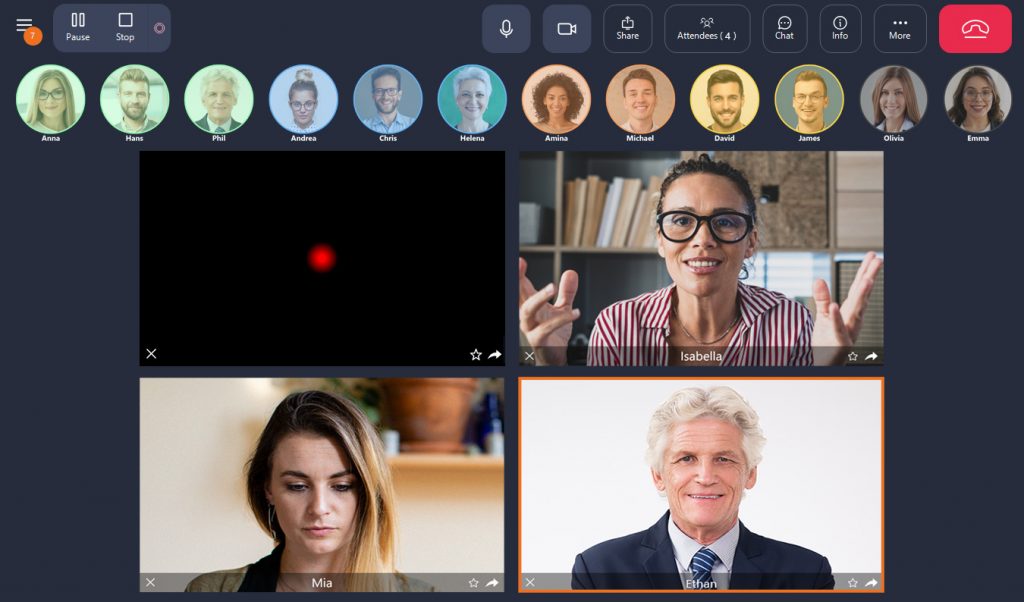 Background customisation
In addition to blurring, it is now possible to customise the image displayed in the background, by choosing directly from a selection or by uploading the file of your choice.
New user experience
Finally, Tixeo is evolving its graphical interface to simplify and improve the user experience of the solution.