In these hot weather, telework topics are once again emerging in the media as a one-off solution to alleviate the inconvenience of high heat. This theme also includes each unforeseen event that could affect employee mobility (snowy episodes, social movements, H1N1 flu epidemic, etc.).
Addressing telework as a temporary response to these issues is not representative of the real transformation to which the world of work aspires today. Teleworking and new modes of collaboration address different challenges and bring many benefits other than those related to mobility.
Digital Workplace by Tixeo
Tixeo did not wait for snow, heat waves or the last strike to take the path of teleworking. After more than 10 years of traditional on-site collaboration, the editor of secure videoconferencing solutions is moving towards remote working in 2015 and is now claiming to be a 100% dematerialized company. At a time when companies are choosing to grant only one or two days of teleworking per week, Tixeo goes further and offers its employees a real virtual space accessible on a full-time basis, using its secure videoconferencing solution.

Tixeo joins the FROGs (Fully Remote OrGanizationS) family, a new category of companies that fully organize their remote collaboration through an adapted digital ecosystem (Cf. Here Come the Frogs (Fully Remote Organizations)
Every morning at 9:00, Tixeo employees meet from home in the digital open space as they would do in a traditional office. The Tixeo solution offers HD/4K video and crystal-clear sound that provide an optimal communication experience, easing exchanges and interactions. Connected continuously, they can easily collaborate through screen and application sharing, remote control or secure messaging. Customers and partners can also instantly join discussions via the simple installation of the native Tixeo client or through interoperability with legacy videoconferencing systems. To avoid the inconveniences associated with cross-discussions, the solution allows Tixeo employees to separate out within the virtual open-space: those who so wish can discuss among themselves without being disturbed, while remaining visible to the rest of the team. At the end of the day, employees disconnect exactly as if they were leaving their desks.
The continuous connection avoids the feeling of isolation or exclusion that some teleworkers may feel; in addition, Tixeo teams regularly gather at headquarters for certain work meetings and to share more friendly moments.
However, it is legitimate for a continuous connection to give rise to mistrust and fears about employees' privacy. To work peacefully, it is possible to cut off the camera and microphone or even disconnect as you would leave your desk to take a break or concentrate on your work. This mode of collaboration will probably not be compatible with all corporate cultures.
Finally, to ensure the confidentiality of conversations, the Tixeo technology offers a real end-to-end encryption of client-to-client communications (video/audio/chat/data), as well as encryption of communication links between client and server. Tixeo is currently the only certified videoconferencing solution (CSPN -1-) and qualified by ANSSI -2-.
100% home-office: a winning bet for Tixeo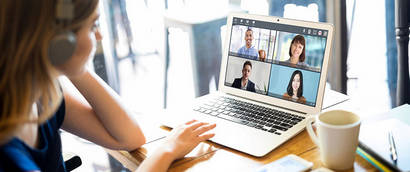 The immediate effect was first of all a reduction in structural costs: it is no longer necessary to rent spacious offices for the entire team. Tixeo's headquarters hosts the management and a showroom to welcome customers and partners. The employees are spread throughout France and Europe (Paris, Montpellier, Clermont-Ferrand, Nice, Madrid, etc.) and use equipments provided by the company.
The benefits of mobility are also numerous. Home-to-work journeys and their carbon footprint have disappeared from everyday life. Employees save time and quality of life, they evolve in a favorable environment, which reduces stress, delays and illness. This lack of travel leads them to be more concentrated and productive. This improved productivity is also due to the Tixeo video collaboration which offers more agility and efficiency in the tasks to be carried out.
This organization also optimizes employee recruitment and retention: the search for new talent is no longer limited to a geographical area: we hire the best people, not the one who lives closest to us. It is therefore possible to recruit throughout Europe without requiring the future employee and his/her family to move. Employees also enjoy complete freedom of mobility, allowing them to move from one region to another at any time, if they have a good Internet connection and a quiet place to stay.
Finally, the benefits of Tixeo videoconferencing are contagious and also benefit a growing number of our customers and partners: without being forced to do so, many use Tixeo spontaneously and benefit from it in practice: simplified meeting organization, enhanced customer relations, project follow-up and optimal reactivity. Being able to see each other in one click really increases the quality of customer relations.
[2] ANSSI : National Cybersecurity Agency of France
Try Tixeo for free for 30 days