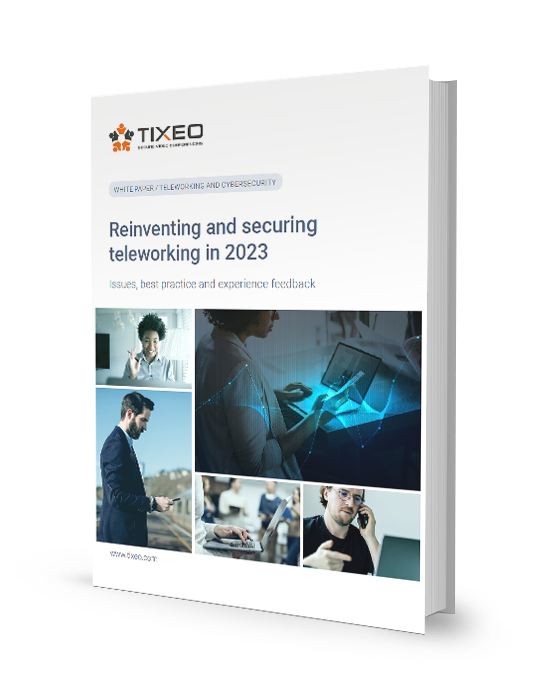 White Paper | Teleworking Security
Reinventing and securing remote working in 2023
​
Our relationship with work has changed considerably in recent years.
Employees, particularly younger ones, have high expectations of their company and are also concerned about their work-life balance. Teleworking meets these new needs. In 2023, to take full advantage of teleworking, companies need to rethink their organisational model and strengthen security. This is all the more urgent in a tense geopolitical context where cyberthreats are on the increase.
Digital nomadism, quiet quitting, the quest for meaning… What is this new vision of work?
What are the advantages of remote working for businesses?
VPNs, Wi-Fi networks, mobile devices… How can teleworking be secured in 2023 to protect against cyber threats?
Finally, in this white paper on teleworking security, find out about Tixeo's experience of 100% "augmented teleworking" over the last 8 years:
How has the company implemented a new 100% teleworking model to improve team productivity and strengthen collaboration?

Fill in the form on the right, then click on Get the white paper*.

You will shortly receive the white paper in PDF format at the email address you entered in the form.
*The information collected by Tixeo, the data controller, from this form is subject to automated data processing in order to allow you to receive the White Paper written by Tixeo, to carry out download statistics and commercial prospecting operations for professional customers. In accordance with the RGPD, you can exercise your right to access, rectify or delete your personal data by contacting gdpr@tixeo.com. Finally, you have the right to object at any time to the processing of your data concerning any commercial prospecting operation by simply sending an email. For more information about the use of your personal data, please consult our privacy policy.
Secure videoconferencing
Innovative mechanisms to guarantee the security and confidentiality of your meetings.
Tixeo offers
Tixeo offers a wide range of features to make your teamwork more flexible.
Tixeo provides secure video conferencing technology used by many organizations.
Find out what we can do for you