Tixeo, the European leader of secure videoconferencing and the only technology certified by CSPN and qualified by the French National Cybersecurity Agency (ANSSI), will participate for the first time to the next DIGITAL FUTUREcongress (DFC) that will take place in Germany in Munich am Main on July 7th, 2022. In collaboration with Connect4Video, its German partner, Tixeo will present Crypt4Video, the Connect4Video customized version of its video conferencing solution (MTC München – Forum, Stand B9).
This event aims to present the latest technological developments to decision-makers and IT managers of mid-sized companies (MSEs) and small and medium-sized enterprises (SMEs) for the targeted and successful implementation of their digital projects. The motto of DFC 2022 encourages to "Rethink your Business Model" by using the trade fair as a platform for information, exchange and network development. The main themes include cybersecurity and data security.
The DIGITAL FUTUREcongress takes place three times a year in three German cities. They bring together around 4,000 participants and 150 exhibitors and offer meetings, 50 speakers and 15 workshops. This year, the events at the Frankfurt/Main, Munich and Essen trade fairs will be held in a hybrid format (on-site and online). The Global-DFC took place in April 2022 in purely virtual mode.
One month after the opening of its Berlin office, Tixeo strengthens its presence in Germany
Tixeo relies on a network of highly qualified local partners to precisely meet the needs of organizations that want to strengthen their communication privacy and adopt a new vision of online collaboration. At the Frankfurt event on May 17th, as well as on July 7th in Munich and on November 3rd in Essen, Tixeo will present itself with its German partner Connect4Video. These meetings will be the opportunity to reinforce the privileged partnership between Tixeo and Connect4Video, which offers a complete range of video conferencing software and a support service for the implementation and use of the solution.
Crypt4Video, a highly secure personalized video conferencing solution
During the event in Munich, visitors will be able to meet Tixeo and Connect4Video teams on their booth (B9) and discuss about the importance of security and confidentiality of communications during videoconference meetings. This aspect, sometimes neglected, appears to be highly strategic in a context where telecommuting is massively developing and where the risks of spying and eavesdropping have never been so important. On the demonstration area, visitors will be able to test Crypt4Video, which integrates true end-to-end encryption of audio, video and data streams, including in multipoint meetings, while remaining highly adaptable to network variations. Crypt4Video also guarantees compliance with the General Data Protection Regulation (GDPR).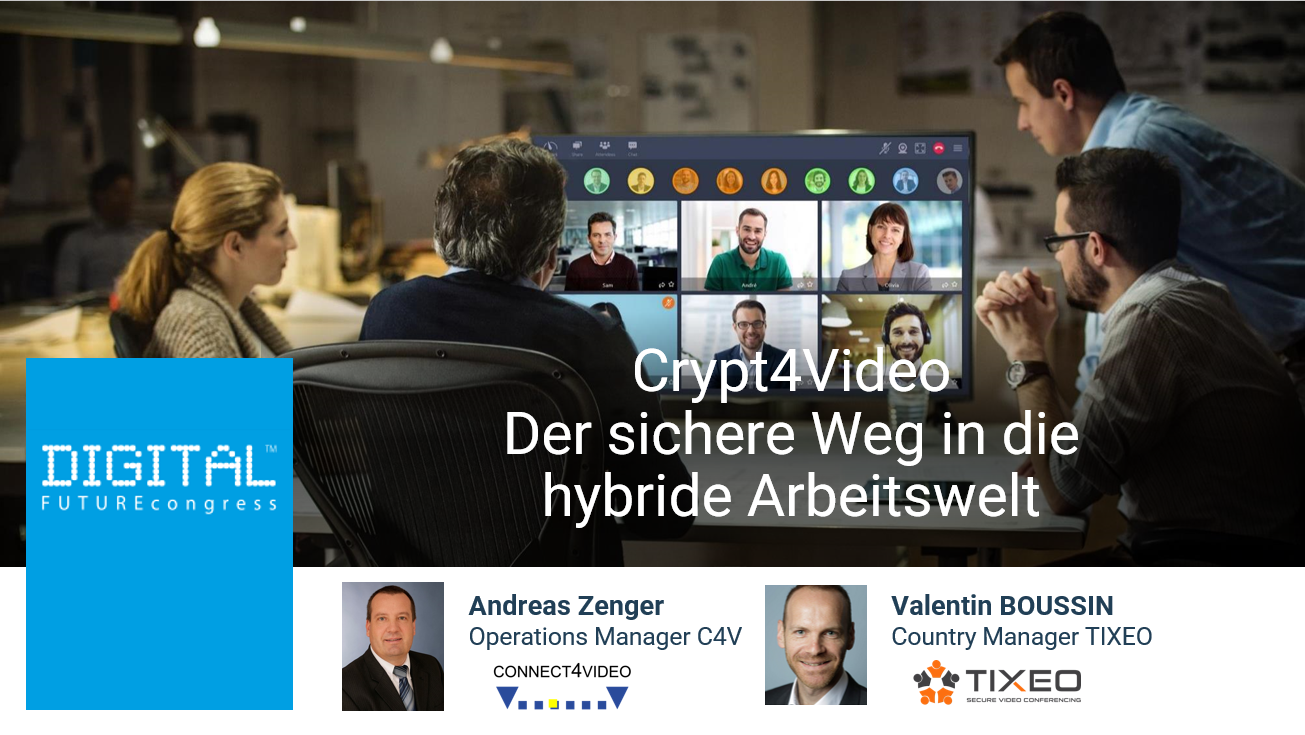 Conference "Crypt4Video, hybrid work in secure mode"
Andreas Zenger,
Operations Manager,
Connect4Video
Valentin Boussin,
Country Manager, Tixeo
In addition, Andreas Zenger, Operations Manager at Connect4Video, and Valentin Boussin, Country Manager at Tixeo, will hold a joint conference in German on the topic "Crypt4Video, hybrid work in secure mode" (Crypt4Video – Der sichere Weg in die hybride Arbeitswelt).
Since the Schrems II ruling by the Court of Justice of the European Union (CJEU) in 2020, mainly American video conferencing solution providers are no longer compliant with data protection rules. As a result, the CJEU declared the European Commission's adequacy decision on the EU-US Data Protection Shield (Privacy Shield Decision 2016/1250) invalid. As a result, the transfer of personal data to the United States under the Data Protection Shield was no longer legally permitted. Moreover, even if the servers of these providers are located in Europe or Germany, the software still contains a so-called "back door" according to US law, allowing the US secret services to access the content without a court order and without informing the persons concerned. Users therefore run the risk of violating European law by using American cloud providers. The supervisory authorities are increasingly expanding their investigations. High fines are likely to be imposed. In addition, unlike Tixeo, almost all manufacturers do not offer standard end-to-end encryption of all group conference participants. Encryption only takes place up to the server, which in turn can be exposed to attacks and thus reveal the content of the communication.
Connect4Video is a telecommunications provider registered with the Federal Network Agency. It complies with German data protection regulations as well as the requirements of the GDPR. Thanks to the partnership with Tixeo, the company has been able to expand its product range in the video conferencing field by offering a highly secure product under the name Crypt4Video. To ensure the highest level of security, the solution runs exclusively on Connect4Video's servers, operated in data centers in Germany, Austria and Switzerland. Connect4Video also offers secure archiving solutions and support for the organization of event presentations.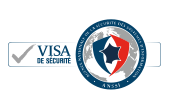 DIGITAL FUTUREcongress Munich 2022
Thursday July 7, 2022 – from 9:00 am to 5:30 pm |  MTC München – Ingolstädter Str. 47, 80807 Munich – Allemagne – Germany | Tixeo and Connect4Video booth: B9