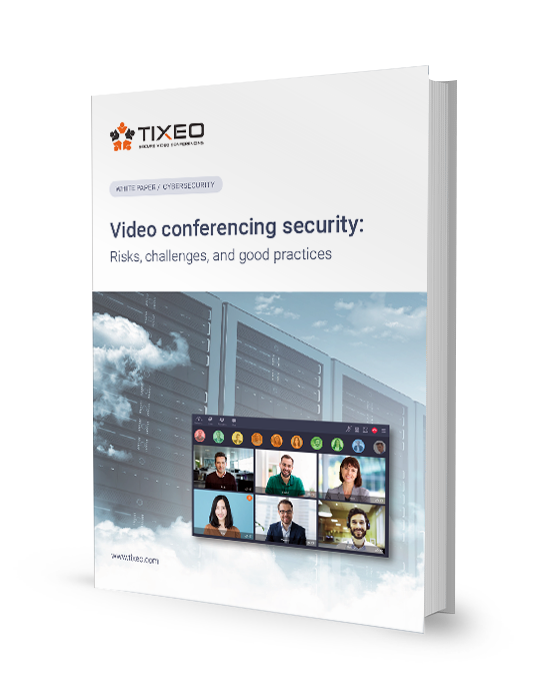 White Paper  |  Cybersecurity
Video conferencing security:
risks, challenges, and good practices
This white paper aims to provide a comprehensive overview of the security of videoconferences
In an increasingly threatening context, companies need to ask the right questions in order to provide a secure telework model based on videoconferencing solutions that ensure privacy and respect of personal data.
What are the risks that organisations are facing today?
What video conferencing technologies can they rely on to enable their employees to communicate confidentially during their online meetings?
Why are the legal context and the issue of hosting of paramount importance in the fight against espionage and in the matter of data protection?

Fill out the form below, then click on Get the white paper*.

You will soon receive the white paper in PDF format at your email address indicated in the form.
*The information collected by Tixeo, the controller, from this form is processed electronically in order to allow you to receive the White Paper written by Tixeo, to perform download statistics and commercial prospecting operations for professional customers. In accordance with the GDRP, you can exercise your right to access your personal data and have them corrected or deleted, subject to proof of compliance with the legal requirements, by contacting: rgpd@tixeo.com. You have the right to object to the processing of your data concerning any commercial prospecting operation at any time by simply sending an email.  For more information on the use of your personal data, you can consult our privacy policy.
Secure video conferencing
Innovative mechanisms that guarantee the security and confidentiality of your meetings.
Tixeo's offers
Tixeo offers a wide range of features to gain flexibility and optimize your teamwork.
Tixeo provides a secure video conferencing technology that is used by many organisations.
Find out what we can do for you.