General meetings, sales and marketing presentations, employee training, conferences and official meetings are all events that can be held remotely. These are important moments in the life of a company. Even more so when employees are in hybrid or remote mode.
Tixeo's Conference mode offers multiple advantages to ensure the success of these events.
Optimise the quality of your remote presentations
A general meeting means adequate collaboration features! With the Conference mode of the Tixeo videoconferencing solution, you reinforce the impact of your speech.
Take the stage
As in an auditorium, where the speaker takes the stage, conference mode allows the speaker to appear alone on the screen. The audience's attention is then entirely focused on the speaker and the information he or she is about to display. The participants are not visible.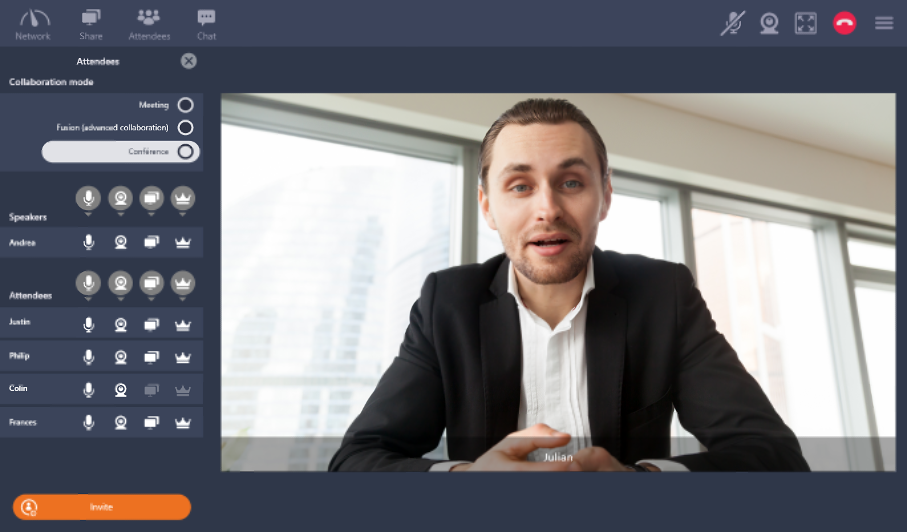 Interact with participants
The conference speaker can easily interact with the audience at any time. A secure conversation module allows the audience to express themselves throughout the presentation. In addition, at any time, it is possible to designate a participant as a speaker so that they can take the floor. This is a useful feature to maximise the interactivity of the conference and the engagement of the audience.
Documents can also be shared by the speaker, thanks to a simple drag and drop on the Tixeo interface.
Finally, in real time, the speaker can share his screen or applications in a very fluid way. This will reinforce the dynamism of the presentation and support the speech.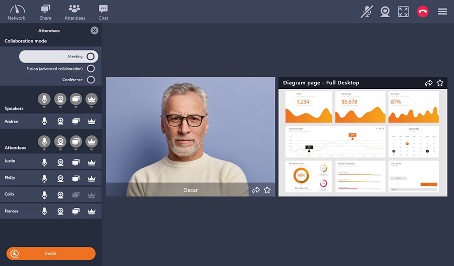 Not forgetting the confidentiality of sensitive information
The Tixeo videoconferencing conference mode also benefits from a high level of security. First, the conference invitation process prevents any unwanted intrusion. Indeed, access to the meeting is strictly reserved to people invited by email. No last minute surprises!
Moreover, some information, such as financial reports, require total confidentiality. For this, Tixeo videoconferencing integrates an end-to-end encryption technology for communication flows (audio, video and data). In other words, it is impossible for an outsider to listen to the exchanges or retrieve the files exchanged. When the videoconference is over, no trace of these data remains in the software.
Tixeo video conferencing solution is the only video conferencing technology on the market to be certified and qualified by the ANSSI.
Opt for secure, high-performance equipment
Video and audio quality is a prerequisite for any remote meeting or conference. For this purpose, Tixeo offers the VideoTouch compact with the TixeoRoom offer: a secure video conferencing kit, including the necessary hardware for an optimal video and audio quality.
The offer is suitable for medium-sized meeting rooms. It combines 1080p HD video quality, dual speakers (Dolby® Audio Premium Technology) and dual far-field digital microphones for clear and natural communication.